Sprinklers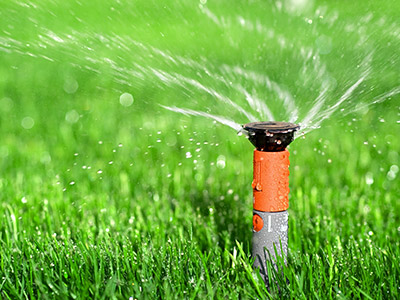 Your lawn and plantings require sufficient amount of water to stay healthy and lush. Properly functioning irrigation will also encourage plant growth and improve the planting's resistance against diseases and pest infestation. But the efficiency of your watering system depends on the skills and competency of your irrigation installers. They can make your irrigation water efficient with the use of top-notch sprinklers and other components.

Greatest Scapes Landscaping has been the leading irrigation installer in the Treasure Valley area for more than 18 years. As experts in this field, we can design, install, and maintain various types of sprinklers. We use only top brands in all our installation and repair projects, so clients are assured that their irrigation system will always function at its optimum level. Moreover, all our crews are properly trained and certified technicians. They can work on any design or type of irrigation, whether in residential or commercial properties. If you want to check our completed projects, please call us at (208) 941-9724. We can show you some of our irrigation projects in Boise, Meridian, Nampa, Eagle, Caldwell, Middleton, Star and Kuna, ID.


Sprinkler System
Allowing your contractor to install just any type of sprinkler system on your landscape is not a good decision. An inferior system may deteriorate sooner or may require frequent repair and maintenance. This will result in poorly irrigated landscape and expensive maintenance costs. Always ask your contractor about their recommended system and assess if it is really the most appropriate type for your lawn or landscape. In addition, you must ensure that all the materials used in the installation are top-quality and sourced from reputable suppliers.


Drip Irrigation
Drip irrigation is the most efficient among all types of irrigation systems. With this system, you can save up to 80% of your monthly water consumption. It targets the root system of the plants, so water wastage is dramatically reduced. But the drip type is not recommended for lawns. It is best used on flower gardens, shrubs, and trees.


Irrigation
Choosing the right type of irrigation system is not only important in ensuring the health of your softscape elements but also in reducing your water consumption. For example, sprinklers are best used on your lawns because they offer 100 percent coverage of the area. Meanwhile, the drip type is highly recommended for shrubs, trees, flower gardens, and other types of plantings for its ability to irrigate specific areas.


Lawn Sprinklers
Having efficient lawn sprinklers is the prime objective of every property owner. Since the lawn must be nourished at the right time and interval, the sprinklers should always function efficiently. A malfunctioning sprinkler can result in overwatering or under-watering of the lawn. This may encourage weed growth, pest infestation, or worst, withering of grass. You can avoid these scenarios by hiring a competent sprinkler installer like us at Greatest Scapes Landscaping. Our company highly recommends the use of automated sprinkler systems on our clients' lawns.


Sprinkler Heads
One of the most important components of your irrigation system is the sprinkler head. Once it becomes defective, your lawn or plantings will suffer. To avoid causing damage on your lawn, make sure that the sprinkler heads are functioning properly at all times. They must be checked on a regular basis to determine if there is a need to repair or replace them. And if you want long-lasting sprinklers, choose the best brands in the market like Hunter and RainBird. The quality of their products are tested and proven by countless satisfied clients across the country.


"MORE ARTICLES"
Landscaping
Sod
Landscape Design
Synthetic Grass
Irrigation

We Provide Services to the Following Cities and Towns in ID: