Sod Installation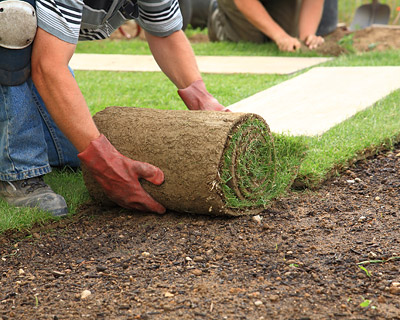 You will notice that a lot of properties in and around Garden City, Eagle, Meridian, Kuna and Mountain Home have lawns. Most people today opt for sod lawns versus ones grown via conventional seeding methods. This is because sod installation is quicker and the lawn is ready for use right after installation. We at Greatest Scapes Landscaping are one of the most sought-after companies in this field.

Over the years, we have handled a large number of landscaping projects even for customers in and around Nampa, Boise, Emmett, Caldwell and Meridian. In most cases, installation of sod is part of the landscaping job we take up. However, we do have a number of customers calling in only for turf installation jobs. Either they want to install a new lawn patch on their property, or they want to replace their existing grass. Regardless of the size of the lawn and the scope of the job, we are the specialists that handle the job with the highest levels of expertise.


What is Sod?
Sod is an excellent option for someone who wants to have an instant lawn on their property. This is pre-grown grass that's available either in squares or rolls. We only have to place the grass rolls or squares in the allocated space and cut it to size. On the face of it, this job may seem easy; but the fact is that only skilled and experienced professionals will be able to handle the job expertly.


Sod Benefits
We are the experts that procure sod from the best sod farms in Idaho and install it quickly and efficiently on your property. There are a number of benefits to installing sod, such as:


As mentioned earlier, it's an "instant lawn" option and looks stunning from the point of time it's installed. There is no waiting involved and you get a ready-to-use grass within hours
Since the grass is already grown to a certain point, it is strong and resilient and is able to fight the growth of weeds, much faster than seeded lawns
It also tends to set-in much better compared to seeded lawns; when you opt for sod, the grass has been grown in ideal climatic conditions and even after its placed on your property, it's able to quickly adjust itself to the soil and climate conditions
When it comes to instant lawns, some property owners also wonder whether they should opt for artificial turf installation. While artificial grass is easier to maintain, it doesn't provide the real and fresh feel that actual grass does.
Sod Installation Process
We are very knowledgeable about the different types of grasses and know which ones will grow well on your property. You will find that you get the best grass at low grass sod cost. We prepare the soil, fertilize and lay the sod and water it thoroughly while installing it. The aim is to provide you the best services at all times.

For more information about our services, call Greatest Scapes Landscaping at 208-941-9724.

We Provide Services to the Following Cities and Towns in ID: