Services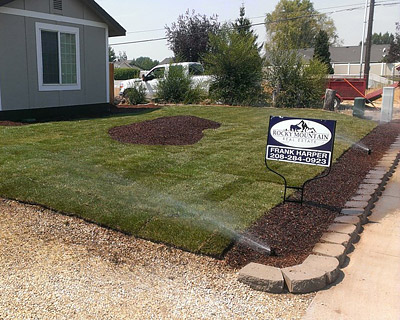 Greatest Scapes Landscaping is a reputed landscaping company that provides end-to-end landscaping solutions to customers across Garden City, Eagle, Meridian, Kuna and Mountain Home. Our company also caters to customers in Nampa, Boise, Emmett, Caldwell and Meridian. We provide customized landscape design and installation services that add to the beauty and value of your property.


Range of Landscaping Services
On board our team are highly skilled personnel that can handle projects of every scale and complexity. The different services we provide are:


Sod Installation
- Sod is the ideal option for someone who wants to have an instant lawn on their property. It's pre-grown grass available either in squares/rolls. We prepare the soil, fertilize and lay the sod and water it thoroughly while installing it. The grass rolls/squares are placed in the allocated space and then cut to size.

This type of turf installation is preferred versus the standard lawn seeding process; it's quick, easier, and less messy and you get a lawn that you can use almost immediately. The sod is sourced from the best sod farms and it's resilient and almost weed-free. It's an excellent way to add greenery to your property.


Sprinkler Installation
- We use the latest and most advanced yard and garden sprinkler systems in our projects. These automated systems become the perfect way to water the outdoor spaces on your property. You can set the time & duration for which you want them to come on. The lawns and plantings get watered with regularity and this extends the life of the softscaping on your property.


Full Service Landscapes
- We provide end-to-end landscaping design and install solutions. The custom design solutions we provide take into account all the different aspects of the landscaping and we ensure you get the kind of hardscaping, softscaping, water features and other decorative features you would like to have on your property.

The plantings are sourced from the best nurseries and the best materials and workmanship are used in the work and you get outdoors spaces that are aesthetically appealing and highly functional too.


Rock & Bark Installation
- Many of our customers like to have some rock installations on their property. These could be functional installations like retaining walls or artistic installations like rock waterfalls. We can also install dry streams with rocks and pebbles of different sizes. Mulching is an important part of a landscape project. We can install different types of wood mulch on your property. This enhances its appearance, helps prevent soil erosion and helps retain moisture in the soil. This mulching could be part of the overall landscaping project or a standalone job too. Our experts will deliver and install the mulch in the different areas on your property as required.

We handle projects of every scale and handle complete landscaping projects as well as smaller landscape upgrade projects and additions of various hardscape and softscaping features. For more information about our services, call Greatest Scapes Landscaping at 208-941-9724.

We Provide Services to the Following Cities and Towns in ID: