Landscape Design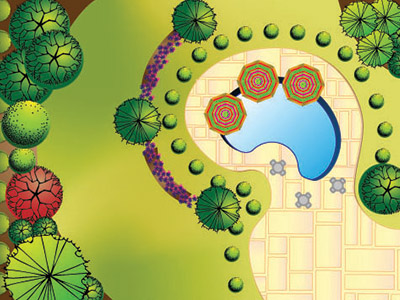 Do you want the charming beauty of an English-style garden or the calming effects of natural-looking water features? You can easily get this type of landscape setup if you hire an experienced landscape design firm. It can create the kind of landscape that you envision without compromising harmony and balance. A professional designer will also ensure that each element or feature will contribute to the aesthetic appeal and functionality of the landscape. But choosing the right one can be a difficult task since there are a lot of landscape designers in the state.

Your best option is to hire a company with an impressive portfolio of completed design projects. You should also consider the company's experience, the creativity of the designers, and the designers' ability to use modern design tools. And here at Greatest Scapes Landscaping, we possess these qualifications. We have been designing residential and commercial landscapes for almost two decades now. The designs that we create are highly personalized and based on sound landscape design principles. We can even adopt a specific theme, style, or technique that you prefer for your landscape. We know the concept of sustainable landscaping, xeriscaping, and other landscape styles. You can see some of our amazing works in Boise, Meridian, Nampa, Eagle, Caldwell, Middleton, Star and Kuna, ID. Call us at (208) 941-9724 so we can start discussing your ideas and plans.


Landscaping Ideas
As a property owner, you surely want a landscape that is designed according to your needs and preferences. You may also have some landscaping ideas that you want to include in the landscape design plan. With the help of a creative landscape designer, realizing your ideas and plans will be easy. Just make sure that your current outdoor space can accommodate your desired features and amenities. You should also consider your available budget for the landscape installation phase.


Garden Design
You can adopt a specific garden design to make your landscape unique and attractive. However, you have to make sure that it complements with the existing architecture of your home or landscape theme. Some of the popular garden designs that you can choose from include Japanese- and English-style gardens, tropical gardens, Tuscan, Mediterranean, and cottage gardens. Rock and water gardens are also good options if you want a more eco-friendly landscape setup.


Patio Design
A predominantly green landscape may not offer the functionality that you need. A simple solution to this is to create an outdoor living feature, such as a patio, pool deck, or sitting area. One of the features that we highly recommend here at Greatest Scapes Landscaping is the patio. It creates a new living space perfect for rest and relaxation, family bonding time, and entertaining guests. It will also enhance the aesthetic appeal of your home because of the custom patio design that we offer.


Landscape Designer
Landscape design is a highly technical job that only creative and knowledgeable people can perform. If you want the best design for your landscaping, make sure to hire a competent, creative, and experienced landscape designer. You will be assured that each element will be placed on its perfect spot in the landscape. A professional designer can also create sustainable and eco-friendly landscape designs.


"MORE ARTICLES"
Landscaping
Sprinklers
Sod
Synthetic Grass
Irrigation

We Provide Services to the Following Cities and Towns in ID: