Irrigation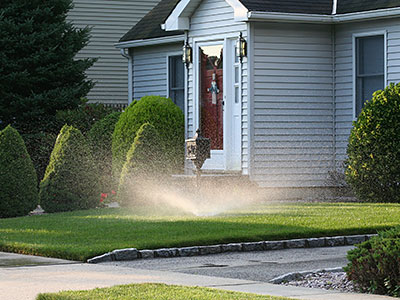 The irrigation system is a vital component of any landscaping project. It has a very important function in a landscape, so it should not be taken for granted or installed haphazardly. A poorly designed watering system may not provide sufficient water to all the plantings in the landscape. This will usually result in weak and disease-prone plants. Property owners have two options if they want to avoid these problems. First, hire an experienced contractor to work on the design and installation of the system. Second, choose only top brands to get a water-efficient system that can last for years without needing major repair and maintenance works.

And here at Greatest Scapes Landscaping, we have these two qualities. Our more than 18 years of experience in the industry has helped us become experts in this field. Our people are licensed and certified professionals, so they can recommend the type of irrigation that will suit your landscape's needs. Quality will also affect the efficiency and longevity of your system, so we always make sure that every product and accessory that we use is top-quality. We use the products of Hunter and RainBird, two of the leading and well-respected manufacturers in the country.

With our professionalism and adherence to quality workmanship, we have already gained a loyal following in Treasure Valley and surrounding areas. We have served a lot of clients from Boise, Meridian, Nampa, Eagle, Caldwell, Middleton, Star and Kuna, ID. Our clients from these areas hire us to work on the design, installation, and maintenance of their irrigation system. Please call us now at (208) 941-9724, and let us discuss how we can make your landscape lush and green all year round.


Drip Irrigation
If you want to conserve water, the drip irrigation is the best option for you. This type is considered as the most efficient irrigation that you can install on your landscape. It uses drip lines or emitters to nourish the root system of the plants. It is also operated at a reduced pressure, so water wastage is avoided. This type requires regular maintenance to ensure the proper functioning of the emitters.


Sprinkler System
The sprinkler system is highly recommended for lawns. It is a flexible system since it can be designed to cover large lawn areas and even lawns with steep slopes. By using the latest technologies and premium grade materials, the sprinkler type will also offer you great savings on utility cost.

Your contractor may also recommend the use of automated sprinklers, which are commonly used in homes and commercial properties. Please take a look at some of the great features of an automated sprinkler system:


can guarantee the efficient coverage of your lawn
can be set on a specific time or day
the amount of water can be controlled, depending on the needs of the turf
has the ability to detect moisture levels in the air
with built-in smart features
Irrigation Systems
Always contact a specialist for all your irrigation needs and concerns. At Greatest Scapes Landscaping, we can help you in the design, installation, and maintenance of sprinklers and other types of irrigation systems. Please call us now if you need more information about overhead sprinklers, micro-irrigation, and sub-irrigation systems.


"MORE ARTICLES"
Landscape
Sprinklers
Sod
Landscape Design
Synthetic Grass

We Provide Services to the Following Cities and Towns in ID: